September/October, 1997 Volume XII Number 8



News Notes




---
Arrest made in California clinic fires

Wenatchee, WA -- An ar rest has been made on arson fire from June 6, 1992 at the Feminist Women's Health Center in Redding, California. The fire gutted the clinic, brought down the building's roof, and caused approximately $100,000 in damage.
It was eight months before the clinic was able to reopen. On October 9, 1994, the clinic was hit again, and again forced to close temporarily. The same day, the Planned Parenthood clinic in Chico, California was also hit by arson, and was forced to close temporarily.
On May 29, a federal grand jury indicted Richard Thomas Andrews, a resident of Wenatchee, Washington, on three counts of arson, three counts of violent interference with commerce, three counts of using fire to commit a felony, and two counts of intentional destruction of reproductive health facilities. If he is convicted and sentenced to the maximum penalties for all counts, Andrews would face a prison sentence of over 100 years.
Andrews is no stranger to the anti-abortion movement. According to reports in the Sacramento Bee, Andrews' activity dates back at least to 1988, when he was arrested for trespassing during an Operation Rescue blockade. The Bee reports that he was "known as one of the two key players" in Washington's version of Operation Rescue, and that he "was a leader in several ad hoc anti-abortion groups." Andrews was arraigned on May 30 in Yakima, Washington, coincidentally the site of a clinic arson on May 6. He was released to house arrest on bail.
Andrews' attorney says that there is clear evidence that it would have been impossible for Andrews to have committed at least one of the arsons in the indictment.

---
Ethics publication runs "Duty to Die" article

The March/April issue of The Hastings Center Report, a journal covering medical ethics, includes an essay by John Hardwig of East Tennessee State University entitled "Is There a Duty to Die?"
Hardwig, a professor of medical ethics and social political philosophy, writes that "modern medicine and an individualistic culture have seduced many [into believing] that they have a right to health care and a right to live, despite the burdens and costs to our families and society."
Hardwig has no objection to the increasingly collectivized medical system that has driven up health care costs; in fact, he maintains that if society were willing to "pay for facilities that provide excellent long-term care (not just health care) for all chronically ill, debilitated, mentally ill or demented people in this country...the duty to die would then be virtually eliminated."
In short, in Hardwig's view, society is insufficiently collectivist and this creates a scarcity of allocated resources. That scarcity, in turn, imposes "a duty to die," a "responsibility to end one's life in the absence of any terminal illness...a duty to die even when one would prefer to live." This "duty" extends to the healthy and vigorous elderly on the basis of their age alone: "A duty to die is more likely when you have already lived a rich and full life. You have already had a full share of the good things life offers."
And what about those who have reached their eighth and ninth decades and haven't exhausted their enthusiasm for life?
"To have reached the age of, say 75 or 80 years without being ready to die is itself a moral failing, the sign of a life out of touch with life's basic realities," writes Hardwig. Reacting to Hardwig's essay, columnist Nat Hentoff comments, "John Hardwig says, 'We fear death too much.' My sense is that we do not fear bioethicists enough."

---
Randall Terry and others protest in Hong Kong

Hong Kong, CHINA -- U.S. anti-abortion activists on June 30 denounced Beijing's draconian family planning policy and got into a shouting match with China supporters in protests ahead of Hong Kong's midnight handover to Beijing.
"This is not a day of celebration, this is a day or grieving," shouted Randall Terry, founder of the Operation Rescue group in the United States.
The anti-abortionists demonstrated outside the venue where Britain will give the colony back to Beijing.
He decried Hong Kong's handover to what he described as history's "bloodiest regime."
Terry also demonstrated on June 31 outside Hong Kong's Legislative Council where he prayed for the collapse of the Chinese communist government.
Holding up outside the Hong Kong Convention Center a six foot photograph of the decapitated head of an aborted female baby, Terry and his group of 11 U.S. Christian ministers blasted Beijing's one-child policy.
"This is the fruit of Deng Xiaoping," he said, criticizing the late Chinese leader who is credited with China's economic revival. "He is the one who initiated the one-child policy. He is a murderer who is rotting in hell."
Terry's claims enraged Bernard Wijedoru, the Sri Lankan-born Hong Kong District Affairs Adviser to Beijing and a 20-year-long resident of the territory, who said he was walking by after picking up his invitation to one of the day's many festivities.
"Why do you come here? What right do you have? This is an important event for Hong Kong, the day colonialism is ending," Wijedoru shouted back at Terry. "You are a bloody coolie who wants to break up China."
Terry in turn accused Wijedoru of taking blood money and predicted that God would bring down China's communist rule.
Wijedoru's words also enraged a passing Hong Kong Chinese who accused the Sri Lankan-born man of having no right to talk about Chinese "unity."



---

Babies used for medical experiments

Victoria, AUSTRALIA -- Hundreds of children in orphanages and care homes in the Australian state of Victoria were used as guinea pigs in secret medical experiments for 25 years up to 1970 according to recent revelations.
The experiments, some on babies three months old, included trials of new vaccines for herpes, whooping cough, and influenza. The largest test was of 350 infants up to three years old injected with full adult doses of trial influenza vaccines. The trials were designed to test for toxic reactions even though medical researchers knew the vaccines often produced more severe reactions in children than in adults.
Some of the vaccines used on children had failed safety tests on animals, said the newspaper The Age. In some cases the children developed serious problems. The Premier of Victoria has ordered an immediate inquiry into the disclosures.
Most of the tests were carried out by the Commonwealth Serum Laboratories (CSL). It is not clear who gave permission to use the children for the experiments. The CSL refused to comment, saying it was now an independent public company but was then government-owned. Other experiments were done by the prestigious Walter and Eliza Hall Institute, a private medical organization which confirmed that it knew of research for a herpes vaccine using 16 babies from a local home, in which it had been involved.
Dr. David Vaux, a spokesman for the institute, said the tests "should be seen as heroes saving lives" rather than as using children as guinea pigs. Foundling Hospital was where meningitis killed up to 30 children in 1970. Vaccines, he said, were tested on animals to see whether there were any toxic effects and if there were not they were then tested on humans.
"At the time there were all sorts of infectious epidemics going through children, especially where children were crowded together," Dr. Vaux said. "These included epidemics of lethal meningitis and poliomyelitis that caused death and paralysis . . . so people were desperate to try to prevent these diseases spreading and killing children. They were given to healthy children to try to prevent them getting the disease, which was before penicillin . . . to stop them from acting as saved."
A group called Innovate, which acts as a voice for former wards of the state, has called for an inquiry, while the Australian Democrats party, which holds a key balance of power in the Federal Senate, has demanded a royal commission.
"The federal government has a clear responsibility to launch an investigation into exactly what went on," said Meg Lees, the Democrats' spokesman on health. She said any royal commission should also look at CSL's human pituitary hormone program, where 2,500 people were given hormones from dead people between 1967 and 1985 to treat "infertility and short stature." Michael Wooldridge, the Federal Health Minister, said: "It shouldn't have happened then, it couldn't happen now."
He would not comment on the possibility of a federal inquiry.

---
Dayton woman fired for pregnancy wins suit

Dayton, OH -- A jury awarded $146,800 to a woman fired after her boss suggested she get an abortion and her husband have a vasectomy when she was pregnant with her seventh child.
The jury said Linda Kreider was wrongfully fired because she was pregnant and should be reinstated as a production manager at Creative Fabricators Inc.
"I'm just relieved it's over and I'm ready to get on with my life," Ms. Kreider said after the verdict.
She had worked at the company six years and was 3 1/2 months pregnant when she was fired in November 1994. The company said Kreider was fired because she was absent too often and was not getting her work done.
But during the trial, Roberta Prigozen, who owned the company with her husband, Richard Prigozen, she overheard him ask Kreider if she was going to keep the baby. He then suggested she get an abortion and that her husband have a vasectomy.
"These are outrageous statements and they don't belong in any employment relationship," said Beverly Meyer, Kreider's attorney. The jury awarded Ms. Kreider $80,800 in back pay, $15,000 for emotional distress and $15,000 in punitive damages. She was also awarded $36,000 for being paid less than a man doing a comparable job.

---
High Court says states may outlaw assisted suicide

Washington, D.C. -- A unanimous U.S. Supreme Court has said that state governments have the right to outlaw doctor-assisted suicides in a landmark ruling involving the right-to-die controversy.
On June 26, the nation's highest court refused to create a new constitutional right for mentally competent and terminally ill patients to get medical help to commit suicide.
The two decisions marked the first time the justices have ruled on the existing bans on doctor-assisted suicide, an issue that has sparked a divisive national debate rivaling abortion and capital punishment in emotional intensity.
In one of the most important rulings of its 1996-97 term, the high court upheld laws from New York and Washington states barring doctor-assisted suicide, a decision with far-reaching impact as most states have made the practice a crime.
President Bill Clinton hailed the ruling.
"The decision is a victory for all Americans -- it prevents us from going down a very dangerous and troubling path on this difficult and often agonizing issue," he said in a statement.
Clinton said the court drew a significant distinction between assisting in death and allowing death to occur.
"This issue is unavoidably heart-rending, and we must never ignore the agony of terminally ill patients, but the Supreme Court made the right decision today. The risks and consequences of physician-assisted suicides are simply too great," he said.
The justices overturned two precedent-setting rulings by U.S. appeals courts in California and New York that struck down as unconstitutional the state laws that make it a crime for physicians to assist in a suicide.
The Supreme Court decision did not involve Dr. Jack Kevorkian, a retired pathologist and the nation's best known advocate of assisted suicide who has publicly acknowledged attending 45 deaths since 1990.
Kevorkian's lawyer Geoffrey Fieger said in Michigan that his client would continue his controversial crusade. He added, "Dr. Kevorkian is going to continue to do what's right. There is no law against assisted suicide here in this state."
Chief Justice William Rehnquist wrote the main opinions in both cases. All the justices concurred in the judgment, but five justices in each case wrote separate concurring opinions. In all, various opinions produced more than 130 pages.
Rehnquist said an examination of the nation's history, legal traditions, and practices demonstrate that Anglo-American law has punished or disapproved of assisted suicide for more than 700 years.
He said state laws banning the practice have never contained exceptions for those near death. Rehnquist noted that Clinton recently signed a law barring the use of federal funds to support physician-assisted suicide.
Rehnquist, whose wife died in 1991 after a long battle with cancer, next declared that there was no constitutional right for an individual to commit suicide with another person's assistance.
"Legal physician-assisted suicide could make it more difficult for the state to protect depressed or mentally ill persons or those who are suffering from untreated pain from suicidal impulses," he said.
"The state also has an interest in protecting the integrity and ethics of the medical profession," Rehnquist said in explaining the reasoning behind the ruling.
"Finally, the state may fear that permitting assisted suicide will start it down the path to voluntary and perhaps even involuntary euthanasia," he said.
Rehnquist said debate on the issue, which involves important questions of morality and legality, should continue throughout American society.



---

IN doctor fined for wrongful abortion

Shelbyville, IN -- A Shelby Co. judge has ordered a former doctor to pay $1.25 million for performing a wrongful abortion on a woman he impregnated nine years ago. Circuit Judge Charles O'Connor entered the judgment against doctor Pravin D. Thakkar in a 1988 lawsuit brought by Kathy Collins of Anderson, Indiana.
O'Connor decreed that Thakkar should pay $750,000 in compensatory damages and $500,000 in punitive damages.
Besides the January 1988 wrongful abortion, Collins' suit also accused Thakkar of assault and battery and intentionally inflicting mental duress.
Two of the doctor's former lovers, Carmen Singer and Collins, both of Anderson, Indiana, testified during Thakkar's previous trial that when they became pregnant Thakkar aborted their unborn children without their permission.
In 1991 Thakkar was convicted of seven charges including performing illegal abortions on women with whom he had had sexual relations and battery. One conviction was overturned, and he was sentenced to eight years in prison on the remaining counts.
He was released from prison in April 1995 after serving about four years. Thakkar lost his medical license several years ago following the illegal abortion revelations.

---
Pro-life "road tours" continue

Two major pro-life organizations have reprised last year's "road tour" method of getting out the message this summer.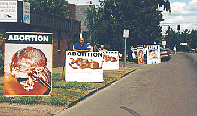 Operation Rescue/California (ORC) and the Milwaukee, Wisconsin Missionaries to the Pre-born (MTP) have taken to the road with huge photos of babies -- both dead and living.
ORC's Show The Truth Tour has toured the western states of California, Oregon, Washington, Idaho, Nevada, and Arizona stopping in as many as three or four abortuaries a day with the signs and literature.
Half a dozen ORC activists travel the highway in a large motor home with a trailer containing about 50 of the large signs. Local activists, notified in advance, have joined them along the way.
MTP's focus on the Freedom Tour has been different. Instead of going to clinics, the group has taken their demonstration to the main roads running through the small towns in Wisconsin, Illinois, and Michigan.

---
Suit filed against school employees

Portland, OR -- In the wake of the Back to School project, activists Paul deParrie and his daughter Michelle have filed a multi-million dollar lawsuit against two school employees who harassed and intimidated pro-lifers who stood on public property while distributing anti-abortion literature.
Activists held signs and distributed literature with Rock for Life at Portland-area schools in 1997 and plan to continue in the fall.
The suit, against Joree Jackson, a school monitor at Madison High School, and Steve Hollingsworth, a lieutenant in the Portland School District Police, claims deprivation of civil rights under color of law and conspiracy to deprive persons of civil rights. The federal action is under the Ku Klux Klan Act.
"It's about time these 'public servants' got the idea that they work for us and that they can't just violate people's rights with impunity," said Paul deParrie.
DeParrie says that Jackson followed and harangued him and his daughter in a public park next door to the school, falsely identified himself, claimed that the park was school property, and threatened to have them arrested. Hollingsworth also claimed that parts of the park belonged to the school and, at a subsequent demonstration, permitted students to commit crimes against pro-lifers as a means of getting them to stop their First Amendment activities.



---

Federal agencies, police join to locate arsonist

Tuscaloosa, AL -- The federal Bureau of Alcohol, Tobacco and Firearms (BATF) and the FBI have joined in the search for whoever set the fire that burned a Tuscaloosa abortion clinic.
"We are working with Tuscaloosa Police and the Tuscaloosa Fire Department," said Brian Lett, a spokesman for the BATF in Birmingham. "We have offered them use of our laboratories and our expertise in fire investigations."
Lett said FBI agents are in Tuscaloosa helping with the investigation. Tuscaloosa Police said the fire at West Alabama Women's Center early Tuesday was started by someone who entered the building through a hole cut in an air conditioning duct on the roof.
"Somebody threw a fire bomb in there," said Dr. Louis Payne, who operates the clinic.
Police Chief Ken Swindle said officers smelled smoke after being called to the building by a burglar alarm. A homemade ladder was propped against the side of the building, a fire official said.
"We are checking into the possibility that an organized group might be involved, but at this point we have no indications to suggest that," Swindle said.
Lett said the BATF was part of federal task force formed by Attorney General Janet Reno to investigate violence against abortion clinics. The task force was disbanded last year when the Justice Department determined there was not a nationwide conspiracy, but that the violence was the result of random acts, he added.
"But as a result of our involvement, we still respond in timely fashion to these type cases," Lett said.
After hearing about the Tuscaloosa bombing, Feminist Majority Foundation President Eleanor Smeal called for abortion clinic arson and bombings to be classified as "domestic terrorism."
She also said the Tuscaloosa fire and other recent fires at clinics should be investigated for possible links to two bombings in Atlanta last year which were claimed by a group called "Army of God."
Payne, operator of the Tuscaloosa clinic, is the father-in-law of South Carolina Gov. David Beasley. Beasley, a conservative Republican, opposes abortion.
Payne pledged to quickly reopen the clinic, which suffered about $100,000 in damage.
"It's unfortunate that people are sick enough to do something like this," said Payne. "But I guess if people will burn churches, they'll burn anything."
Payne has performed abortions in Tuscaloosa since 1969. Payne said several threats have been made through the years, but nothing he viewed as serious. "We are not breaking any laws, we're not doing anything illegal," Payne said. "We're just doing our business."
A local pro-life activist noted, "Nazis at Aushwicz were doing nothing illegal either, but that fact did not prevent the tribunal at Nuremberg from dispensing justice at the end of a rope."

---
Prosecutor to decide on charges against OR euthanasist

Albany, OR -- The Lane County District Attorney's office will soon decide whether to prosecute Corvallis Dr. James Gallant on criminal charges for his role in the "active euthanasia" of a 78-year-old comatose woman (Life Advocate, September 1996).
Gallant was disciplined in July by the state Board of Medical Examiners, which said his actions in caring for the woman were unprofessional and dishonorable.
"This hearing....was one of the things we wanted to see done before we made a decision," whether to prosecute, said Bob Gorham, assistant deputy district attorney. The case was referred to Lane County by Benton County District attorney Peter Sandrock, who cited a conflict of interest. Gallant is Sandrock's doctor.
Gallant did not respond to requests for an interview.
"The family wishes privacy," said a receptionist at Corvallis Internal Medicine, where Gallant was seeing patients.
A number of Gallant's patients called the Gazette-Times Friday to express their continuing support for the popular doctor. The medical board filed a formal complaint against Gallant last July, accusing him of active euthanasia in connection with the death of Corvallis resident Clarietta Day.
Shortly after the complaint became known, activists from Advocates for Life Ministries (AFLM) picketed both the hospital and Gallant's home in Corvallis. According to the complaint, on March 22, l996, Gallant prescribed a lethal injection without Day's knowledge or consent, after diagnosing her with a condition that is nearly always fatal.
Day had given Gallant an unsigned document stating that she wished attempts to save her life to continue for at least 24 hours if she was in a comatose condition. Gallant began administering death-dealing drugs immediately.
The medical board has suspended Gallant's medical license for 60 days, issued a formal reprimand, and ordered Gallant to pay the cost of the state's investigation and hearing, estimated at $8,000 to $15,000. Gallant's hospital privileges will be revoked while his license is suspended, said Julie Manning, of Good Samaritan Hospital. They will be restored after the suspension.
"Is this all Clarietta Day's life is worth?" asked AFLM's Andrew Burnett. "If so, we are not very hopeful about what the district attorney will do."

---
Woman gets 30 years for plot to kill unborn child

Jefferson City, MO -- A Jefferson City woman has been sentenced to 30 years in prison for plotting to kill a woman's unborn baby.
Cole county Circuit Judge Byron Kinder sentenced Sandra Kenney, 38, to 15 years on each of two counts of first-degree assault. The sentences, to run consecutively, were the maximum possible.
Kenney was convicted in June of recruiting two men to beat up Naomi Baum and inject her with cocaine and antifreeze in order to kill Baum's unborn baby, who was fathered by Kenney's husband.

---

Copyright © 1997 Advocates for Life Ministries