Life Advocate editor no "stalker," court says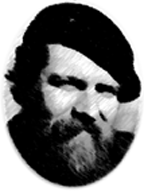 Salem, OR -- The Oregon Court of Appeals reversed a lower court ruling that Paul deParrie, editor-in-chief of Life Advocate magazine, was a stalker.
On February 18, a three-judge panel unanimously agreed that the civil stalking statute had been unconstitutionally applied to deParrie because his actions did not constitute "a threat or something that does not differ meaningfully from a threat" when he conducted two peaceful pickets outside the home of Portland abortionist Jude Hanzo.
"It goes to show that you can't lose'em all," said deParrie gleefully. "This ruling will not allow the abortionists to stop speech just because it makes them uneasy."
DeParrie, 48, represented himself both at trial and on appeal and was surprised with the suddenness of the victory.
The suit was first filed in March of 1996 after deParrie had finished an 18-month long campaign of picketing one abortionist's home per month. Hanzo, who no longer works for the abortion clinic but is still its registered agent, claimed that the "violent context" -- the shooting of abortionists and the statements of support for the moral justifiability of the use of force -- of the abortion debate could be used to show that she was in "reasonable fear" of deParrie. The Court of Appeals disagreed saying that, if such a reasoning were accepted, deParrie would be prohibited from "any protest/picket activity directed, not just against [Hanzo] and her clinic, but against any abortion provider. [The stalking law] does not, and cannot, yield that result." (Emphasis in the original.)
In addition to the obvious victory, attorneys for Advocates for Life Ministries and American Coalition for Life Activists in the $1.4 billion suit brought against them by Planned Parenthood are optimistic that the ruling's stark denunciation of the "violent context" theory will help to get their case dismissed.
"I've gotten requests from all over for copies of the ruling," said deParrie. "Pro-life attorneys are very excited."