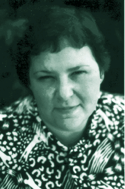 Cathy Ramey
Associate Editor
Tommy Tucker's last stand
by Cathy Ramey

A hometown newspaper, The Clarion-Ledger, describes him as a "circuit-rider" but that's one of the kinder epitaphs associated with Thomas ("Tommy") W. Tucker II whose license to practice medicine (read: to kill) has been pulled in two states.
More commonly he is called a murderer, "the butcher of Birmingham," and even a "blood-sucking human hyena."
Tucker is/was one of only two abortionists in Mississippi, and in fact owned the only mill in the northern part of that state. Now that facility, Tri-State Women's Health Center, like three others that he owns, is closed.
"Some women may be forced to carry to term," bemoans Christy Henderson, executive director of Pro-Choice Mississippi." Other women, she claims, will travel to mills in other states. She, has side-stepped the darker issues surrounding Tucker's problems.
"It's a sad day for women's reproductive freedom in this state," chimes in Tucker attorney, Stephen Shankman.
The Mississippi mill was the first of his offices to be shut down, but Tucker's undoing might have started in Birmingham with the death of Angela Hall [see related story].
Hall secured services to rid herself of her 22 week unborn child in June of 1991. She died in a rather dramatic way. And while other complaints of unprofessional conduct, violations of administrative rules, and rumors that Tucker was flagrantly breaking Mississippi's 24-hour waiting law abounded, it has been the fall-out from this one woman's death that appears to be putting the nail in Tucker's own coffin.
In an early 1994 newspaper interview Tucker bemoaned the fact that he was being sued by Angela Hall's family. It includes five children who haven't seen their mother since the day she drove to Birmingham.


Tucker sued numerous times
Tucker, in what has become his characteristic response to allegations and action against him by the medical community, plaintively responds that he doesn't understand why everyone is against him. "We do good work," he repeats in one interview after another. In fact, it was in that early 1994 news article that Tucker claimed to have never been sued before.
Both Mississippi and Alabama require that physicians report any litigation brought against them, even if the suit is settled out of court. In one county in Mississippi, DeSoto County, court records indicate there are more than 20 suits currently pending against the abortionist. Most of those are related to unethical business practices and have more to do with the bars and restaurants he owns.
Among the bevy of charges that resulted in Tucker's license suspension in Alabama only days after his Mississippi license was confiscated is the assertion that there have been at least five out-of-court settlements against Tucker between 1990 and 1993 in Alabama alone. All of those settlements involve injury to women; uterine perforations, retained tissue from the child who was killed, infection, and sterilization after emergency surgery.
But those are relatively minor allegations in light of other charges.


Getting ready to "stab Caesar"
Tucker has been under investigation in both states since January of 1993. It has been a slow and painstaking process, but finally, in March of 1994 charges were filed by the Alabama Medical Association.
Pro-life activists have complained that the investigation has taken overly long. Some voice suspicion that Tucker's case has moved through the medical hearing process at a snail's pace because the board, composed only of physicians, are reluctant to deal harshly with one of their own.
Consumer groups like Ralph Nader's Public Citizen have charged that the medical associations link with a state agency might be responsible for delay and a lack of accountability.
And pro-abortion zealots like Gail Chadwick of Pro-Choice Mississippi have defended Tucker. In late March, after charges had been filed, Chadwick claimed, "We have carefully scrutinized his credentials and his facility. We feel confident that he is providing first-rate reproductive health care services to women."
James Cooper, a lawyer hired by the Alabama Board of Medical Examiners to direct the investigation, responds to his critics by detailing the process. A medical board hearing is unlike either the civil or criminal process, he says. All of the facts must be clearly established even before charges are formally made.
In Tucker's case there is a profusion of evidence, numerous complaints, and it was necessary to procure promises of immunity from criminal prosecution for former Tucker employees before they would fully cooperate in the investigation.
"When you're going to stab Caesar," Cooper says, "you want to make sure he dies."


Employees doing abortions
Former employees are a vital part of the Tucker investigation. At least three of them have testified before the medical board that Tucker routinely broke the law and violated administrative rules by requiring them to do procedures that they were unqualified to perform.
Suzanne Leedom is a nurse practitioner who was employed at Tucker's Southaven facility. She testified that she terminated her employment after becoming uncomfortable with the number of procedures that Tucker trained and expected his staff to perform. Her testimony is corroborated by that of Joy Davis, a former office manager/facility director for Tucker [see related story].
Testimony indicates that Tucker rarely was involved in preparing a woman for the abortion. Employees in all areas; lab, office, nursing, were trained by Tucker to insert the seaweed sticks called laminaria used to dilate the cervix. Standard medical practice prohibits anyone but an MD. or nurse practitioner from doing this procedure because of the possibility of tearing or perforating the surrounding tissue.
Unlicensed staff were routinely dispensing medications at each of Tucker's mills. Persons not licensed to administer general anesthesia, including administrative employees, were putting women to sleep even before Tucker would arrive to perform the abortions.
Davis, with no medical training claims to have performed abortions herself. On at least ten occasions Tucker was unavailable, "either out of town or he didn't want to get out of bed," she claims. Women who had laminaria inserted went into labor prematurely -- before the scheduled second-day appointment. On those occasions she was instructed over the phone by Tucker to proceed with an abortion.


Employees ordered to falsify documents
Tucker dismissed allegations of gross negligence and professional misconduct leveled at him by the medical community. It is simply the work of "disgruntled employees," he claimed over and over again. And for the most part the allegations cannot be verified by examining client files.
All three women who have testified before the medical board have also been ordered before a criminal grand jury. All three testify that Tucker routinely ordered them to falsify records at his facilities.
"I was told to go ahead and document the patient record...to follow the law," Suzanne Leedom says, in order to make it appear that women were waiting the 24 hours required by law. "We needed to cover our hineys," she told investigators.
The age of the baby to be killed was routinely over-estimated by two weeks and recorded in order to increase revenue into the facilities. A pathologist has testified that the weight of the babies being removed was consistently less, by about two weeks, than he would have expected.
Still, allegations of record tampering might have depended largely on whether or not to believe ex-employees or Tommy Tucker except that Davis had retained torn up pages of Angela Hall's medical record. She turned over to the medical board and a district attorney's office pasted together copies, complete with Tucker's signature, of original documents showing that Angela Hall's record in the facility had indeed been changed.


Drug problems
In addition to changing records, Tucker staff routinely filled out drug prescription forms that were pre-signed by Tucker.
Charles Breeland and G.W. Robbins are medical board inspectors assigned to investigate allegations against Tucker. During an on-site survey of one Tucker facility they report that they found hundreds of pre-signed and undated prescription forms in an unlocked drawer.
In addition to allowing staff to prescribe by using his forms, Breeland and Robbins found that narcotics -- controlled drugs -- were kept in an unlocked area, and many drugs could not be accounted for.
One former employee testified that Tucker's method of reconciling his drug count and his records was to order staff to document the drugs as having been "dropped and broken" or contaminated and destroyed.


Suspension
In light of the charges against him, the sanctions finally ordered against Tucker lend credibility to those who claim that the medical board has been slow and inept at processing complaints.
Thomas W. Tucker was found guilty of gross negligence and malpractice in Mississippi on 32 of 34 counts filed against him. The medical board brotherhood voted unanimously to sanction him by suspending his license for five years. It then suspended four years from his "sentence." Tucker is without a license for one year but then may resume practice with a number of restrictions imposed that are in theory intended to hold him to a higher standard of accountability.
Because Mississippi and Alabama have reciprocity, the state of Alabama has given Tucker a "summary suspension" revoking his license to practice. The suspension is temporary until June 22 when he will have a full hearing on charges that apply specifically to that state, including a more in-depth review of the death of Angela Hall in Birmingham.


New civil suits
In addition to medical board charges, Tucker is continuing to battle numerous lawsuits. Only days before losing his license another woman filed suit claiming that Tucker permanently injured her during the course of an abortion.
Christal Morgan Fuselier of Petal Mississippi claims that Tucker performed an unauthorized abortion upon her in which he perforated her uterus, severed a main artery, and lacerated her bladder. [see Life Advocate, May '94] The 19 year old woman claims that as a result of the procedure she is now permanently sterile.
Morgan claims that on three separate occasions during the procedure she requested that an ambulance be called to take her to the hospital. Instead she was walked out of the facility and placed into a private car. From there she was transported to the hospital.
In March of '94 a university student, Joycelyn White, also filed suit against Tucker claiming that in December of 1992 she was scheduled to have her child killed by Tucker. Instead an unlicensed employee performed the abortion. Her suit claims the abortion was "unsuccessful."
A suit is expected to be filed on behalf of a 14 year old "Jane Doe" who was given an abortion on April 7 of this year. According to her mother, the girl experienced pain and fever, developed an infection, and possibly had her uterus perforated by Tucker. She was taken from the facility to an emergency room where it was also discovered that parts of her child were still inside her.
But on April 7, 1994, the 14 year old girl appears to have been the lucky one. Her injury occurred first. Twenty-one year old Michelle Jordan followed her as a Tucker client later in the day.
Jordan was scheduled to have a Norplant contraceptive/abortafacient implant removed from her upper right arm. Speculation among Tucker opponents and ex-employees is that the abortionist wasn't even at the facility as the devise was being removed from her arm.
What is known is that Michelle Jordan was placed under general anesthesia for a procedure that normally would not require it.
Tucker rejects arguments that he was away from the premises and having an employee do the procedure. He explains the use of general anesthesia -- putting Michelle Jordan to sleep for a very minor procedure -- as necessary because "she was nervous."
Apparently Jordan began having respiratory difficulties just at the end of the two minute procedure to remove the Norplant sticks. Tucker claims that aggressive efforts were undertaken to help the woman breath; medications were given, mouth-to-mouth resuscitation was done, oxygen was made available, but in the end Michelle Jordan appeared to be dying.
An ambulance was finally called. But here Tucker's history calls into question whether-or-not the woman was given help immediately. Detractors suspect that Michelle Jordan was left gasping for air in order to allow the abortionist enough time to arrive at the facility in order to give the appearance that he had placed Jordan under anesthesia and performed the procedure.
Records indicate that Jordan was finally transported to the University hospital in Birmingham sometime between 2 and 3 p.m. April 7. She was resuscitated by emergency room personnel but never regained consciousness. For days later she died.


Criminal investigation
Most reports surrounding Tucker's financial status indicate that he is uninsured and unable to pay heavy judgments against him. It has been cause for some delay in the filing of civil suits against him as plaintiffs looked at the possibility that they might prevail in the courts but never see enough reimbursement to even pay for the cost of an attorney.
In light of that fact there are likely to be those who have been injured but were unable to pursue Tucker through a civil lawsuit process. However, Tucker's problems don't end with medical board sanctions and civil suits. It is expected that criminal charges will also be brought against the abortionist in the near future.
A DeSoto County grand jury has been involved in hearings for several months now over claims that Tucker crushed the skull of a baby girl born alive after his efforts to kill her in an abortion failed.
According to Joy Davis in a sworn deposition, "There was a live birth in Southaven," formally licensed as the Tri-State Women's Health Center.
"Tucker had sent me to Southaven to talk to the people there and calm them down," Davis says. "And Dr. Tucker told me prior to that that there was a live birth, and he told me the situation; told me what he had done and how he had crushed the skullcap."
Other ex-employees who testify that they were present have corroborated the sworn testimony given by Davis.
District Attorney Robert L. Williams of Hernando, Mississippi said, "I can't confirm or deny anything under investigation by the grand jury," when asked for details on the allegation that Tucker might be charged with having murdered the infant.
However, Police Chief Tom Long confirmed that the investigation is going forward.
"I can only say this," he responded, "We believe we have a good case and our investigation and that of the grand jury is continuing."
Long indicated that the scope of the investigation is broader than whether-or-not a baby girl was killed as alleged by several ex-employees. There is speculation that Tucker may be charged with violating other laws that limit the age at which a child can be killed in a free-standing mill.
Mississippi law requires that abortions done on babies after the second trimester must be performed in a hospital. Testimony of at least one ex-employee indicates that the little girl whose skull was crushed was beyond the "legal limit" for Tucker's facility.