March/April, 1998 Volume XII Number 11


"Moon" rises over pro-life protest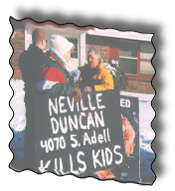 New Berlin, WI -- Pro-lifers hardly expected to see the moon during their daytime protest on January 17. But an abortionist's wife, Brenda Duncan supplied the "moon."
While Missionaries to the Preborn were commemorating Roe v. Wade by picketing abortionist Neville Duncan's home outside Milwaukee, Brenda marched into her driveway, dropped her pants, bent over, and exposed her buttocks to the crowd of 50-plus activists.
"That's what I think of all of you," she shouted.
The Missionaries gathered outside the home and stood quietly for about a half an hour where they were visible to the Duncans and their children -- who could be seen peeking through the curtains at the graphic signs held by the picketers.
Finally, Brenda Duncan came outside and shouted at a protester who was pointing a video camera at the house, "You want to get shot, you (expletive)?" and proceeded to "moon" the protesters. Matt Trewhella, founder of the Missionaries, said, "In all the years we've been doing this, we've never quite gotten that response."
The Milwaukee Journal Sentinel quoted Brenda Duncan in an interview after the affair as saying that the protesters were "a bunch of ignorant people expressing their opinions. If I feel threatened, someone is going to die." The local prosecutor says he will file disorderly conduct charges against Duncan.
Duncan's attorneys say she reacted reasonably to the protesters, who she felt were harassing her and her children. But Duncan's history is disturbing. Three weeks prior to the "mooning" incident, police took an illegal sawed-off shotgun from the woman while investigating a December 24 domestic dispute. Court records show numerous other recent complaints including when Brenda Duncan allegedly threatened a sixth-grade boy whom she believed had injured her kindergarten son and another disorderly conduct charge where she threatened to shoot her neighbor's dog. Police say that they have had 17 occasions to contact Duncan since they moved in to their home 15 months ago.
District Attorney Paul Bucher says he would dismiss the incident were it not for the alleged verbal threats -- which were clearly shown on the video tape. In addition, it must be decided whether to file the charges in municipal or criminal court.
"If that is true -- threatening to shoot people in the presence of a firearm -- it indicates a pattern and that concerns me greatly," said Bucher.


---
OTHER IN THE NATION ARTICALS
Silver Anniversary of Death
Blast rocks Birmingham abortuary; 1 killed, 1 injured
Charges dropped against Oregon man who destoryed child porn
FL sheriff calls abortion doctor "baby killer"
"Moon" rises over pro-life protest
Doctor's anti-abortion sign violates township ordinances, authorities say
---