March/April, 1999 Volume XIII Number 5



News Notes
---
Health inspections will expand; Abortions, tattoos, body piercing now included in action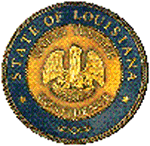 Baton Rouge, LA - The order for health inspections to expand brought howls of criticism for Governor Mike Foster's broad health inspection order that now is aimed at tattoo parlors as well as abortion clinics.
The administration now says the order was not intended to cover doctors' and dentists' offices. Such offices were cited as examples of places that needed to be inspected to protect public safety.
Health officials announced they have decided to target abortion clinics, tattoo parlors and body-piercing businesses for an assault on unsanitary health conditions. They were given the authority for inspections as a result of Foster invoking police powers and declaring a health emergency.
Meanwhile, a national abortion enthusiast organization was already preparing to challenge Foster's order in federal court, and a vocal pro-life legislator said the order is too broad.
Representative Tony Perkins, R-Baker, said Foster was wrong to include other medical and health-related facilities that currently go uninspected by state health officials in his executive order.
It is "almost an over-reaction," he said.
"There's no justification for that," said Perkins, who said the real problem is found at abortion clinics such as one in Baton Rouge that was the subject of allegations of unsanitary conditions last week.
The allegations against Delta Women's Clinic on Goodwood Boulevard prompted Foster's sweeping order.
Perkins said he'll file legislation to put all abortion clinics under state regulation as ambulatory-surgical centers when the Legislature convenes in March.
"A very risky procedure has become even more dangerous for women, not because it is illegal, but because the clinics are unregulated," Perkins said.
Perkins said while there may be potential health problems at tattoo parlors and body-piercing establishments, it's not the same thing as "an out-patient facility where they are doing invasive surgical procedures."
Robin Rothrock, administrator of the Shreveport-based Hope Medical Group for Women, said she suspects the governor's order was aimed all along at abortion clinics and nothing else. She said the latest development lumping abortion clinics in with tattoo parlors clearly demonstrates Foster is out to harass the clinics. "Nonsense" said foster's office.

Abortionist faces tax fraud hearing
Biloxi, MS - One of a handful of doctors who used to perform abortions in Mississippi, and the state's last visible abortionist, faced a court appearance in Biloxi on February 8 on federal tax evasion and bankruptcy fraud charges.
Joseph Booker is charged with five felony counts. He was arraigned later that afternoon before a federal magistrate.
Abortionist blasts protesters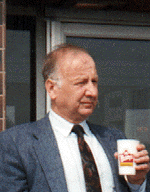 Aurora, IL - Prolife activist Laura Carroll and David Hahn were near the gate of the abortion clinic in Aurora, Illinois on the morning of, February 6, when abortionist Jakubowski drove his car through the wrought iron gateway into the crowded parking lot.
As the two spoke to a couple in the parking lot, they were startled to hear a loud blast. They looked towards the blast and saw Jakubowski holding an air horn.
Every time Carroll or Hahn would start to speak to the patient, Jakubowski would blow the hand held air horn. As Carroll continued to speak, Jakubowski walked over to the fence where the two stood, pointed the horn directly at her over the fence and blasted away with the powerful horn.
Carroll said she looked right into his eyes and thought how strange he was acting.
"He had a smirk on his face and looked very pleased with himself," she said.
Jakubowski eventually went inside the clinic. Other anti-abortion activists, who were nearby praying and picketing, phoned the Aurora police. Four officers soon arrived and went into the clinic to question Jakubowski. Jakubowski denied ever pointing the horn at the protesters.
The officers came out of the clinic and were about to talk to Carroll when Jakubowski came out of the clinic dressed in his scrubs. He walked over to his car which was parked right by the fence where the activists stood praying and he got into the car. He then announced that he wanted to listen to some music. He was getting ready to crank up the music when a couple of officers persuaded him that it was a bad idea. After they talked to him for about five minutes, he got out of his car and returned to his crowded clinic where women were. Carroll's ears were still ringing hours later and her head hurt. At least one woman left during this strange episode.
"This is not the first time sidewalk counselors have suffered abuse at this clinic," one activist reported. "In December Jakubowski's wife slugged Carroll on the public sidewalk by the clinic."

Alec Baldwin's "Kill 'em all" speech
Janet Parshal, radio talk host, played a recording of actor Alec Baldwin's rant on Conan O'Brien's comedy TV show. Baldwin almost choked the second time he screamed.
Baldwin allegedly said, "If these impeachment hearings were taking place in another country, we would take Henry Hyde out into the street and stone him to death [enthusiastic applause, cheering]. Take Henry Hyde out into the street and stone him to death! [screams of yes, yes, applause, cheering]. I said take Henry Hyde out into the street and stone him to death [vocal audience affirmation]. And then go to all of their houses, drag their wives and children out into the street, and stone them to death, too." One viewer commented, "Isn't there a RICO tone or undertone or overtone or sending a message to the fringe? Maybe Baldwin was just posturing for a movie we haven't heard about yet."

Conservative activist Bauer runs for president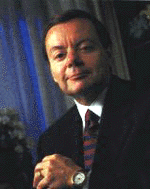 Washington, D.C. - Conservative activist Gary Bauer has announced he will seek the Republican presidential nomination in 2000, adding that if he does not get it he probably will not back any ticket that is not clearly anti-abortion.
"I'm going to file papers tomorrow with the Federal Election Commission to set up an exploratory committee, and intend to run for president,'' said Bauer, a former Reagan administration official who was head of the Christian conservative Family Research Council.
Bauer, appearing on NBC's "Meet the Press,'' added that if the Republican ticket "hedged'' on abortion or "tried to play political games'' on the issue, he probably would be "doing something else on election day.''
The Republican party "can't go South on this issue; can't run for the tall grass,'' said Bauer. It would present a "real dilemma'' for him if the ultimate Republican nominee does not share his abortion views, he said.
"I hope we never have to cross that bridge,'' Bauer, 52, said.
He said that as president he initially would send proposed legislation to Capitol Hill to ban abortions in the second and third trimesters of a woman's pregnancy.
"But I also would like to send up legislation that made it clear that unborn children are persons (protected) under the 14th Amendment of the Constitution,'' he said, referring to the amendment that ensures equal protection and due process under the law.
Bauer signaled that his bill would ban all abortions, even in the case of rape or incest. "These are the hard cases, but I don't think you punish the innocent human being in those hard cases'' he said.
Bauer described as a "disaster'' and a "national tragedy'' the two times in U.S. history when the Supreme Court veered from providing equal rights to all Americans.
He said the country was still dealing with the "poison'' of the 1857 Dred Scott case when the high court said black slaves were not people under the Constitution.
And in the 1973 Roe v. Wade decision, the high court basically said unborn children should be treated no better than ''Styrofoam cups,'' Bauer said.
"That's a national tragedy,'' he said.
In that landmark ruling, the High Court overturned anti-abortion laws in 46 states.
Earlier this month, Bauer addressed the Conservative Political Action Conference in Arlington, Virginia, a gathering of some 1,800 conservative activists.
Bauer placed first in straw poll among delegates, gaining 28 percent of the 1,010 votes cast, ahead of Texas Governor George W. Bush with 24 percent and publisher Steve Forbes with 10 percent.
On other issues, Bauer said he would "stand strongly'' for an across-the-board 16 percent flat tax.
And he rejected Internal Revenue Service figures suggesting that his flat tax means a tax increase for 114 million families that make under $100,000 a year and a tax reduction for six million families that make over $100,000.
"Let the record show that you called (President) Bill Clinton's IRS to get those figures,'' he said. "I think those are cooked figures. The average American family pays a lot more than 16 percent in taxes.''

U.S. web site to show abortion clinic videos
Atlanta, GA - A man who runs an anti-abortion Web site said that he plans to publicly identify women who obtain abortions by displaying live video of them entering clinics in the United States, Britain and Japan.
"We'll film people going in and out of the clinics. We'll film the faces of people who are entering and the faces of mothers driving their daughters to clinics to have abortions,'' Neal Horsley, who runs the Internet site.
The announcement came just days after a Portland, Oregon jury declared the site "threatening" and the service provider, MindSpring, Inc., shut down Horsley's infamous Nuremberg Files.
A spokesman for Planned Parenthood expressed skepticism about the plan and said any attempt to videotape women at clinics would meet with legal action.
"I'll believe it when I see it. If that happens, not only would Planned Parenthood, but anyone else who believes in protecting women's patient-doctor confidentiality rights, would seek immediate recourse in the courts,'' the spokesman said.
Horsley, 54, of Carrollton, Georgia, about 60 miles west of Atlanta, said that abortion opponents, whom he called "sidewalk counselors,'' planned to film patients as they enter seven clinics - five in the United States and one each in Japan and England.
Horsley would not identify the clinics.
"Our goal is to have a camera in every time zone, so someone can log on to a live location at any time of the day and see what's going on,'' he said.
Horsley said he expected the video portion of the Web site to be operating sometime in March.

Former Ohio inmate who sued over abortion has baby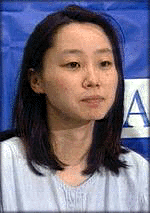 Cleveland, OH - A woman who sued a Cleveland judge for jailing her allegedly to prevent her from having an abortion, has given birth to a baby girl, her lawyer said.
Yuriko Kawaguchi, 21, delivered a seven-pound, one-ounce girl in a hospital near her home in the San Francisco area, said Ray Vasvari, legal director of the American Civil Liberties Union in Cleveland.
Kawaguchi, who completed her freshman year at the University of California at Berkeley, was arrested in May in connection with a credit card forgery scheme in Cleveland. She was about five months pregnant when she pleaded guilty in October to forgery charges, which the ACLU said were a fifth-degree felony under Ohio law and usually carried a sentence of probation.
Prior to sentencing, Kawaguchi said she would seek an abortion once she was freed. But Cuyahoga County Common Pleas Court Judge Patricia Cleary sentenced her in October to six months in prison.
Cleary told Kawaguchi's attorney at sentencing, "I'm saying she is not having a second-term abortion."
An Ohio appeals court freed Kawaguchi later in October on a $15,000 bond. Kawaguchi, who decided to have her child, sued the judge, alleging Cleary violated her constitutional right to pursue an abortion.
Cleary said the sentence fit the crime.
Vasvari said Cleary had made a motion to dismiss the suit and that Kawaguchi's lawyers would submit counter-arguments.
Kawaguchi was born in Japan but has lived in the United States since she was 11 months old.

Vandals hit clinics opposed to abortion
San Francisco, CA - Police in four Bay Area cities are investigating overnight graffiti attacks on four clinics that counsel women about alternatives to abortions.
The graffiti was discovered early on the 26th anniversary of the U.S. Supreme Court's pro-abortion ruling in Roe v. Wade.
"We're very concerned about this because it's really different than anything we're used to,'' said Union City Police Captain Connie Van Putten. Her department is investigating the vandalism at Pregnancy Choices Clinic Counseling Care, which also received a telephoned bomb threat yesterday.
"You don't hear too much of the pro-life (clinics) being targeted like this,'' she said.
Along with the Union City center, the other vandalized clinics were located in San Francisco, San Jose, and Concord.
The clinics were vandalized sometime between early Thursday evening January 21 and the following morning. At the Union City clinic, workers arrived in the morning to find the building and its windows sprayed with black and red paint.
The messages included "Abortion is a Right'' and "Lies Told Here.'' The building was also pasted with flyers for local abortion clinics and an epoxy- like substance was smeared over door locks.
Similar graffiti was found at the other three clinics, police said.
Pregnancy Choices Clinic Counseling Care also received a bomb threat at 10:50 a.m. on January 22, just a few hours after the graffiti was discovered.
Workers at the clinic and surrounding buildings were evacuated for about an hour while police searched for a bomb, but none was found, Van Putten said.
Linda Bertolami, president of the Union City clinic, said the nonprofit Christian organization is a licensed medical center that provides free support services to pregnant women.
The clinic, which has operated for 16 years, provides pregnancy testing, counseling, prenatal care, and free maternity and baby clothing.

Clinton proposes money for "clinic defense"
Washington, D.C. - President Bill Clinton has proposed an initiative designed to protect abortion clinics from the "escalating violence" that has killed or wounded health care workers and law enforcement officers since 1991.
The $4.5 million is to be used to help clinics purchase closed-circuit camera systems, improved lighting, motion detectors, alarm systems, or bullet-resistant windows. The money, to be included in Clinton's budget, will also pay for security assessments to determine which clinics face the greatest threats.
The initiative was announced on the anniversary of the Supreme Court's decision legalizing abortion in Roe v. Wade, and as abortion opponents march past the U.S. Capitol in protest.
The juxtaposition of the two events underscores the bitter divisiveness surrounding abortion 26 years after the high-court ruling. As thousands of marchers denounce what they call the killing of a quarter of the children conceived in America each year through abortion, the White House is moving to direct more federal funds toward protecting abortuaries.
The administration established a Task Force on Violence Against Health Care Providers last year in the wake of the shooting death of abortionist Barnett A. Slepian in Buffalo. Slepian, was shot by a sniper October 23 as he stood in his kitchen after returning from synagogue services with his wife. No one has been arrested in the case.
Several previous "task forces" and grand juries seeking an anti-abortion conspiracy have come up empty-handed.
David O'Steen, executive director of the National Right to Life Committee, called the timing of the White House announcement on the Roe v. Wade anniversary "obviously political to draw attention away from the 1.3 million children that die from abortion every year."
He said, "The abortion industry is a $400 million a year industry that can afford to buy its own security cameras and hardware."

Abortionist in chains; to go to trial for patient death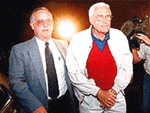 Phoenix, AZ - Arizona abortionist, John Biskind, 72, was arrested on January 12 on manslaughter charges stemming from the death of a woman, Lou Anne Herron, who suffered a punctured uterus during an abortion. Herron is the second woman killed under Biskind's "care." He has been investigated five times in the past eight years for botched abortions, misdiagnosing pregnancies, and other charges.
Biskind's Phoenix clinic was not licensed by the state of Arizona, much less required to meet general safety standards.
"If ever we needed evidence of how dangerous and unregulated abortion is, the horrific story of Lou Anne Herron's death is it," said Teresa Wagner, Legal Analyst for Human Rights and Sanctity of Life Issues at the Family Research Council. "Biskind's utter disregard for his patient's health reveals how far the callous, money-driven abortion industry is from truly being 'pro-woman.'"
Biskind was forced to surrender his license and close his clinic last year (Life Advocate, September/October 1998).
The current case was the result of an abortionist too busy eating his lunch to check on a patient who was bleeding heavily; staff members so inexperienced that they didn't know where the pens were; an administrator who asked for medical help 20 minutes away rather than from the hospital across the street.
"Employees remember clustering around Herron as she grew more pale," noted The Arizona Republic. Staffers reportedly did not believe their own blood pressure measuring instruments because the readings were so low. Only when they could hardly hear a heartbeat did they tell the clinic director, Carol Stuart, 61, to call 911.
Stuart reportedly looked at them like they were "looney," insisting that Biskind, who had left the clinic despite Herron's worsening condition, be found instead. But when Biskind finally answered his pager, his response was: "Well what do you want me to do? Call 911."
Stuart was also arrested and faces charges.
By the time paramedics arrived some four hours after the abortion, 33 year-old Herron had already hemorrhaged to death. No one had even contacted the Good Samaritan Regional Hospital across the street for help.
About two months after Herron's death, the A-Z clinic was rocked again - this time by a botched abortion on a 17-year-old patient. Biskind was performing an abortion on a Cottonwood girl June 30 and had elimitated the teen to have been pregnant for about 23.6 weeks. But the girl was actually 37 weeks along and ended up giving birth to a baby girl.
On January 21, 1999 Biskind and Stuart pleaded innocent to charges of manslaughter. Biskind and Stuart were arrested by the Maricopa County Attorney's office on one charge each of manslaughter in the death of Lou Anne Herron.
They both could face up to 12 1/2 years in prison if convicted.

New book mocks abortionists
Denton, TX - The abortion industry is getting another thumb-in-the-eye from anti-abortion gadfly, Mark Crutcher, director of Life Dynamics.
Several years ago, Crutcher rocked the abortion world with "Bottom Feeder," a cartoon joke book aimed at abortionists. Life Dynamics sent the booklet to half of the nation's crop of medical students.
Reports indicated that the derision for abortionists widely held in the medical community added to the appearance of the over-the-edge insults in "Bottom Feeder" caused many would-be abortionists to change career paths.
Now Life Dynamics has produced "Quack the Ripper" which reprises the joke book idea but relies mostly upon quotes from abortionists themselves bemoaning their lowly status in the medical community.
Such infamous abortionists as Warren Hern, Robert Crist, and Brian Finkel share with the readers that abortionists are considered "second-class citizens," "subterranean," "evil," and bring about "physical revulsion" even among family and medical professionals.
The new book will be mailed to medical students.

Catholic hospital picketed for giving refuge to abortionist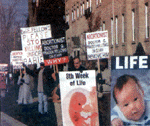 London, ONTARIO - Angry anti-abortion activists began throwing up picket lines around St. Joseph's Catholic Hospital in London beginning on December 12 after it became known that late-term abortionist Fraser Fellows was on staff.
"We want the hospital not to renew his contract or to fire him," said John Bulsza, president of Campaign Life.
There has been communication between the hospital and the local Catholic Church diocese on the matter.
"The question is," Bulsza said, "Where to from here?"
The hospital, however appears implacable. Kathy Burrill, public affairs manager for St. Joseph's, said, "We have reviewed our practices and policies and have found no violation of them."
Fellows has been accused of committing some abortions at the hospital, but the hospital administration denies it.




---
OTHER DEPARTMENT ARTICLES
Editor's Eye
Letters
Prisoner List
Grapevine
News Notes
Grayson's Grit
---