May/June, 1998 Volume XII Number 12



What the Appeals Court said: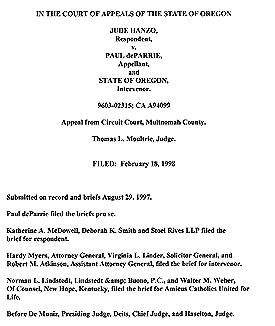 For the benefit of Life Advocate readers (and their attorneys) who face freedom of speech issues in representing the unborn on the public streets and sidewalks, the following is the complete text of the opinion of the Oregon Court of Appeals, February 18, 1998 (Case No. CA A94099). Because the activities Paul deParrie was involved in are common pro-life protest activities, a full text of the opinion of the de novo appeal was thought necessary. A copy of the opinion in electronic form is available on request through e-mail at sabutigo@teleport.com.


---
OTHER COVER STORY ARTICALS
Life Advocate editor no "stalker," court says
What the Appeals Court said
The opinion of the court
---