July/August, 1998 Volume XIII Number 1



5,000 newborns abandoned each year, group estimates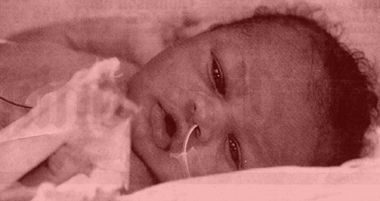 Altadena, CA -- On the morning of May 16, a woman and her two dogs went for a jog in the foothills of the San Gabriel Mountains. She says she felt "led" to go out at this unaccustomed time. When her dogs veered away from her, she followed - trying to call them back. When she caught up to them, they were pawing at the dirt. A tiny foot was sticking out of the ground.
Digging around the foot, the woman found a baby boy wrapped in a blanket, buried face down. Quickly removing the baby, it was soon in the care of the emergency team at Huntington Memorial Hospital - who named the boy Christian.
A few months before this incident, a baby girl was abandoned in the foyer of Emanuel Hospital in Portland, Oregon next to the Starbucks Coffee concession. She was called Star.
Christian and Star were luckier than their unnamed counterparts back East whose mothers made national headlines by giving birth during the Prom dance or in a motel room and leaving them to die, but none of these children are unusual any more. The only difference is how much publicity they generate.
Stories about new mothers willing to dump babies after unwanted pregnancies are more common than most people think, advocacy groups say.
"We always hear about the baby left in the dumpster, but there are many more babies that no one finds," said Sally Kanarck, director of Parent Help USA, a family services center that provides parenting assistance. "We only know the tip of the iceberg."
According to Kanarck, the National Association of Social Workers estimates that new mothers abandon 5,000 newborns, both dead and alive, each year.
The infant found in Altadena, California buried under dirt and leaves in a shallow, grassy hole was upgraded to fair condition on May 19 at Huntington Memorial Hospital.
Los Angeles County sheriff's deputies were still looking for the baby's mother, said detective Kevin Elliott of the Altadena station.
The mother of the child in Portland, Oregon was found, but no charges were filed.
Debbe Magnusen, director of Project Cuddle, an organization that helps women find safe, legal alternatives to unwanted pregnancies, said the person who buried the newborn in the foothills of the San Gabriel Mountains probably thought the boy was dead.
"A lot of these women have not thought through what they are doing," Magnusen said. "They're in denial. Some of them won't even admit they're pregnant until they can't deny it any longer."
Magnusen said it's a huge problem.
"We got 70 calls in the first year of our crisis line," Magnusen said. "But since the word got out about us, we got 900 calls in the last nine months, from desperate women needing help."
"Project Cuddle has saved 76 babies in the last 21 months," she said.
While in the process of implementing the program, Magnusen said, she heard about five abandoned babies in one month in Orange and Los Angeles counties.
"One little girl was left dead in a file cabinet, another in a bag on the freeway, a little boy was found alive on a front porch," she said. "It let me know I'm definitely needed out there."
Many of the women Project Cuddle helps wish to keep news of the pregnancy from their parents, she said, sometimes because of incest, rape, or abuse.
"One girl told me, 'I can't tell my dad. He kicks me in the stomach all the time, and if he finds out, he'll kill me,' " Magnusen said. "She was serious."
Women who call the hotline threaten to get rid of their babies in a variety of ways, she said. Some women planned to leave their newborn on someone's porch, or check into a hospital under a fake name, then slip out.
Most of those who seek help from Project Cuddle are single and range in age from 12 to 43, Magnusen said.
Forty-seven percent of them are not working, 31 percent are high school or college students, and 21 percent have jobs.


---
OTHER IN THE NATION ARTICALS
R is for racketeer
Meet the neighborhood abortionists
5,000 newborns abandoned each year, group estimates
FBI calls stink attacks at clinics "hate crime"

---