September/October, 1998 Volume XIII Number 2



Billboard campaign angers homosexuals, politically correct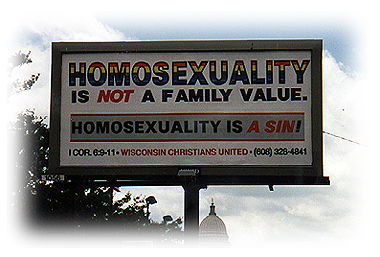 Milwaukee, WI--This past June 16, five billboards went up in four Wisconsin cities-five billboards which precipitated an uproar that remained unabated for well over a month. The billboards were sponsored by Wisconsin Christians United (WCU), a group dedicated to sharing the Biblical and constitutional truth about homosexuality to Wisconsin citizens while also sharing the gospel with homosexuals.
WCU is out on a weekly basis somewhere in Wisconsin, leaving literature at homes or businesses, and holding "prophetic pickets." The group pickets; preaches; and passes out literature in front of "pro-gay" churches, at homosexuals events, and on school campuses. In the past, WCU has also run radio campaigns.
According to WCU director Ralph Ovadal, his group's billboard campaign was in response to "Gay Pride Month" celebrations and proclamations in Wisconsin. The message on the signs was a take-off on the homosexual community slogan "Hate is not a family value."
WCU's full-color billboards read, "Homosexuality is not a family value! Homosexuality is a sin!"
The signs also referenced I Corinthians 6:9-11.
Two of the billboards were put up on heavily-traveled thoroughfares in Madison and one each in Beloit, Monroe, and Middleton.
The response from the homosexual community and their allies was instantaneous, explosive, and continuous until well after the billboards were taken down at the end of the four-week contract WCU had with Vivid Outdoor Advertising. For five weeks, "the sodomite community ranted and raved, threatened and protested," according to Pastor Ralph Ovadahl.
Ovadal himself was accused of being a hatemonger, unchristian, a merchant of hate, a promoter of violence, and the cause of "gay" youth suicide.
An editorial in one of the larger Wisconsin newspapers called him a "fool." Media pundit panels and talk show hosts mused throughout the billboard campaign over where the line on free speech should be drawn, with many asking the question, "Should such hate speech be legal?"
Although WCU's messages ignited much interest and editorial comment around the state of Wisconsin, and even the nation, no where was the reaction to the signs so intense and vitriolic as in Madison.
Night after night, the billboard story headlined the television news on all three Madison channels. Day after day, newspapers carried stories and editorials on the controversy. At the advent of the controversy, city of Madison Mayor Sue Bauman issued a press release which called WCU's message "blatant hostility" and called for a boycott against the company posting the billboards.
Bauman only backed away from the boycott call when hundreds of outraged Christians from around the nation flooded her office with phone calls after hearing on the Christian radio network VCY America of the inappropriate use of her office.
Other Wisconsin politicians publicly attacked WCU's message that homosexuality is sin as "hateful, intolerant." Among those criticizing the campaign were Dane County Executive Kathleen Falk and state representatives Tammy Baldwin and Spencer Black.
In a special statement released to the press, Falk condemned the billboards and reassured her homosexual constituents, "I want our gay citizens to know, feel and believe that you are appreciated as our neighbors, co-workers, bosses, employees, mothers, fathers, sons, daughters and friends. Please don't allow the billboards' animosity to override your rights to enjoy and feel secure in your community."
In an address to a homosexual group, Representative Black stated that WCU's billboards were "harmful to our community and seek to cause hostility towards many of my valued constituents. Their message . . . has no place in our county or anywhere else."
As the outcry against the signs grew, so did the media coverage, with WCU's billboards featured on a number of television news programs across the country. During the course of the controversy, Reverend Ovadal appeared on radio and television talk shows and news reports around the state and nation.
On June 21, one of WCU's signs in Madison was splattered with blue paint. Several cars on a lot behind the sign also sustained several thousand dollars in damage as a result of being splashed by the same paint. The Madison Police Department, reportedly home of a large number of "lesbian and gay" officers, refused to investigate the crime. Ovadal was told that he should investigate and turn in any relevant information.
On June 24, three days after WCU replaced the damaged billboard, the same sign was again destroyed, this time by having glass bottles filled with black ink thrown at it. Once again, Madison police refused to investigate the crime. Ovadal commented, "If this had been a billboard with a pink triangle which said, 'Gay is OK,' the City of Madison would be holding press conferences and convening special commissions to investigate such a 'hate crime.'"
After once more replacing the destroyed billboard, Ovadal confidentially informed the Madison Police Department that WCU was hiring a private investigator to put the Madison signs under surveillance in the hope of catching the persons responsible for the destruction. Later that same day, WCU was contacted by several media sources. Madison police had issued a statement that the signs would be guarded.
The information consequently appeared in several newspapers and on a number of radio reports, thus tipping off the vandals.
On July 5, the "forces of tolerance" struck again. This time they put ladders up against WCU's billboard alongside the heavily-traveled Rimrock Road and painted "Fight Bigotry" across it in black paint. The perpetrators were able to somehow escape detection by Madison police.
On July 8, the Madison Common Council met to consider a "Resolution of Tolerance" which expressed intolerance for WCU's Biblical message about homosexuality. Among those testifying for the resolution were several public school teachers, a lesbian police officer, a county board member, a man in a dress, and a lawyer with the ACLU.
During the council meeting, a number, if not the majority, of those testifying identified themselves as Christians while attacking Pastor Ovadal as a "Nazi," and "hatemonger."
Avowed homosexual Mark Pocan, a former city council member who identifies himself as a Christian and who is currently running for State Assembly called Ovadal a "charlatan" and a "merchant of hate . . . a businessman making money off the hate and discrimination of others."
The tolerance resolution passed unanimously.
On July 13 and 14, WCU's billboards came down as planned. According to Ralph Ovadal, the campaign was a huge success.
"For five straight weeks I was given a bully pulpit to preach the Word of God which condemns homosexual acts," he said. "I was afforded the opportunity to defend the Scriptures as they are written; demolish the arguments of Sodom's apologists; and in addition, share the message of repentance and rebirth in Christ to a huge audience. Our billboard campaign was devastating to the promoters of perversion. Anytime the lie and the truth are laid side by side, the side of truth always gains in the long run. Beyond that, our campaign once more highlighted the reality that there is a form of fascism afoot in America, a fascism which demands that those who do not subscribe to the politically correct ideology of the day sit down; shut up; or better yet, go home." Ovadal repeatedly shared his message during the controversy.


---
OTHER IN THE NATION ARTICLES
"Baby Phoenix" survives against all odds
Biskind incompetent
Missionaries invade Canada
Protest results in assault by police
Billboard campaign angers homosexuals, politically correct
Rome conference ends without consensus
Monuments to the prophets
---

© 1998 Advocates for Life Ministries