September/October, 1999 Volume XIII Number 8



New York's "Gay" Pride Parade is a shameful sight, say onlookers
By Hugh McNichol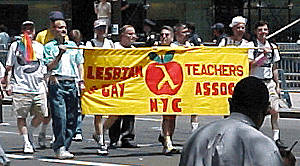 In the shadow of St. Patrick's Cathedral on a Sunday in June, 4,200 homosexual men, women, and their supporters hit the streets of New York City on June 27 to participate in the annual Gay and Lesbian Pride March. This year's event commemorated the 30th anniversary of the Stonewall riot, where outraged homosexual men defied and assaulted police officers enforcing a liquor license law. The theme of the parade was "Stonewall - 30 Years. Proud Past, Powerful Future."
Leather and denim clad lesbians on motorcycles led off at noon, followed by dozens of floats and a sea of participants on foot. The parade progressed from bad to worse, with more degenerate themes and behavior appearing as the marchers moved on. Student associations and decorated sedans gave way to drag queens, half-clad lesbians and less clad men in sadomasochistic gear and high heels. Homosexual veterans with a one-man color guard in dress blue uniform played the Army song; senior citizens drove by in small groups; and community center staff members offering services for gay youth were replaced by men in swimsuits parading their nearly complete sex changes, witches and open groping and kissing.
Float after float rolled by, blaring dance mixes and rap at full volume. Deejays and others chanted "In your face - no disgrace" and "We're here, we're queer, get used to it."
Many men and women shouted and danced as they rode their floats or walked. Whistles added to the cacophony, mostly to drown out the preaching of repentance and reproof from Operation Rescue's co-founder, Randall Terry, and his small band of protesters.
The Christian dissenters were restricted to a small barricaded area and surrounded by uniformed and plain-clothes policemen. They held signs proclaiming "You shall not lie with mankind, as with womankind: it is an abomination;" "Sodomy brings the judgment of God;" "You cannot prevail;" and "You repent, Christ forgives." Terry at times shouted through an improvised megaphone to the passing crowd, meeting with responses ranging from blasphemy, middle fingers and mocking to bewildered sadness and guilty silence. A few women flashed their breasts to show their contempt.
"We had the privilege of bearing witness to the Lord's name and word on this horrible day," Terry said. "We only wish more Christians had been there. Every single homosexual in that parade read or heard the Gospel because of our presence."
ACT UP, the American Civil Liberties Union, and LAMBDA mixed with Buddhists, AIDS awareness displays and couples flashing wedding rings. Uniformed officers in the NYPD moved past their straight colleagues in blue, but their bravado sagged when a lull permitted Terry and another protester, Gary McCullough, to ask them, "How can you celebrate Stonewall where four officers were injured?"
No officers responded.
Cliques of firemen, judges, and elected officials participated also.
The Gay and Lesbian Teachers' Association met with hard questions as well. While they stepped out with their banner, they were asked if they were secretly recruiting or molesting children in their classrooms.
The sharpest divide between celebrant and Christian came towards the close of the march. Although the Lavender Light Gospel Choir had come by earlier, singing praises to Jesus while sporting the gay activists' pink triangle on their float, several churches joined the throng following representatives from Jewish groups, Jehovah's Witnesses and Mormons.
Apostates across denominational lines marched in support of the homosexual lifestyle. Episcopalian ministers wore their clerical collars and marched with their congregants, who in turn wore T-shirts emblazoned in purple with "perfect love casts out fear". Grace Oasis Apostolic Fellowship passed out literature that offers Sunday worship, Tuesday Bible study, and the good news that "you can be gay and Christian!" The Church of St. Francis Xavier offers bi-monthly meetings for "Gay and Lesbian Catholics of Xavier," as well as a support group for parents of homosexuals. Metropolitan Community Church of New York distributed stickers proclaiming "God made me a lesbian" and "God made you queer"; their tract declares "The loving Christ found in the Bible blesses and approves our love". Dignity New York closes their prayer for solidarity for "lesbian, gay, bisexual, transgendered and straight children" in the name of Jesus. A large purple and white float, replete with dozens of balloons, bore the name of "Christ our Liberator."
Terry saved his strongest rebukes for the clergymen and women, calling them "wolves in sheep's' clothing" and warning them that they face greater condemnation their deceiving their flocks. Presbyterian ministers responded by singing more loudly their refrain of "Jesus loves us." One Episcopalian reached over and kissed another man.
The revels continued for over three hours. Onlookers were amused, perplexed, non-plussed. Anger seemed to be confined to the metal corral by St. Patrick's, to a few voices and hastily made signs. The lewdness and perversion of the parade was blatant, as was their scorn for the Christians and the Christ they preached. The pounding of stereos and din of whistles was bold, but believers in New York City were not; in a city of eight million, less than a dozen showed up.
At a press conference Monday in front of the Stonewall [gay] bar, Terry announced plans for nationwide "Days of Mourning" to protest President Clinton's declaration making June Gay and Lesbian Pride Month and his plans to implement "diversity" training for children attending public schools. The events are scheduled to occur on September 11 and 18 to coincide with the start of the school year. Participants will pray, mourn and publicly pledge to defy President Clinton's directive to instruct children about homosexuality.

---
OTHER IN THE NATION ARTICLES
New York's "Gay" Pride Parade
IFPA wants Youth Defence pickets jailed
Editor fights back – with federal lawsuit
Disney/Donald Duck
---

Copyright © 1999 AFLM