---
Congresswoman admits to murder of possibly disabled child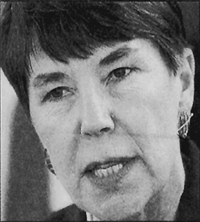 Furse (rhymes with curse) admitted in a January 22 opinion column in The Oregonian that she had murdered her disabled child in 1961.


In an attempt to draw sympathy to the abortion cause, the House Representative from Oregon wrote a weepy tale of having an illegal abortion after she had contracted measles during a pregnancy. Furse claimed that tests had shown that it was "likely" that the child would be disabled, but since prenatal testing had not yet been developed, it would have been impossible to know with any certainty. Pro-life activists, however, say that the accuracy of testing is beside the point.


"Is Elizabeth Furse so self-important that she believes she is 'above' having to care for a disabled person?" asked Paul deParrie of Advocates for Life Ministries.


While the abortion was technically legal because Furse had convinced a physician's panel that carrying the child would endanger her life, Furse notes that it was her doctor's suggestion that she use the ruse on the physician panel which would decide the case. Furse has only one kidney and the doctor, who refused to do the abortion illegally as Furse had first asked, suggested that an exception might be made if the claim were made that this condition threatened her life.


The panel decided that she could "terminate the pregnancy' but that she must undergo a complete hysterectomy in the process. This barred Furse from having any more children.


"I suppose that the hysterectomy was just as well," said deParrie. "It prevented her from doing an end-run around the law by having and keeping a non-disabled child later and it also prevented her from getting pregnant and killing any more unborn children."


The Furse article was run on the 24th anniversary of the Roe v. Wade decision which legalized abortion. Furse was highlighting her experience in order to justify the "right" of women to have abortion on demand at any stage of pregnancy and for any or no reason.


"I don't know how Representative Furse can represent disabled people when she obviously supports death for disabled people," said deParrie. "I also have a hard time with her calls to 'respect the law' when it comes to anti-abortion protests when she subverted that law which would have made her a felon."

Top of Page
---
&copy 1997 Advocates for Life Ministries